The new Divi Theme v.4 update introduced an undocumented option to 'Enable Responsive Images' support. The option generates 3 additional Divi Image Sizes with the 16:9 aspect ratio based on Divi Theme breakpoints.
The additional resized images are added to the srcset attribute of the image elements and should improve the Divi Image Module output responsiveness on various devices.
The three new '–responsive–' Divi Image Sizes are:
et-pb-image–responsive–phone: crop of 480x270px
et-pb-image–responsive–tablet: crop of 980x551px
et-pb-image–responsive–desktop: crop of 1280x720px
The above 3 image sizes are an addition to the default 7 resized Divi Image Sizes:
et-pb-post-main-image: crop of 400x250px
et-pb-post-main-image-fullwidth: crop of 1080x675px
et-pb-portfolio-image: crop of 400x284px
et-pb-portfolio-module-image: crop of 510x382px
et-pb-portfolio-image-single: resize to 1080px
et-pb-gallery-module-image-portrait: crop of 400x516px
et-pb-post-main-image-fullwidth-large: crop of 2880x1800px
The above 10 Divi Image Sizes comes in addition to the default 7 Image Sizes of the WordPress v.5:
thumbnail: crop of 150x150px
medium: resize to 300px
medium_large: resize to 768px
large: resize to 1024px
1536×1536: resize to 1536px
2048×2048: resize to 2048px
scaled: resize to 2560px
WPO affect of the excessive number of Image Sizes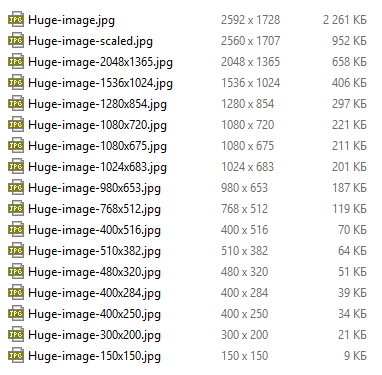 The default WordPress website with the Divi Theme v.4 generates 17 image sizes per uploaded image. For a website with a 100 uploaded images this will result in another 1,700 image sizes in storage and the following performance-related issues:
Longer image sizes regeneration, when an existing website is rebuilt with Divi Theme;
Bloated '_wp_attachment_metadata' JSON value in the 'wp_postmeta' Database table;
Image-sizes will often require more hosting storage space than the original images;
A need to optimize 17 additional image sizes per uploaded image;
Complicated export/import/migration processes in the future;
Bigger, longer backup processes.
WPO+ Approach: unify as many image sizes as possible
Can't some of the following Divi Image Sizes be merged:
et-pb-post-main-image: crop of 400x250px
et-pb-portfolio-image: crop of 400x284px
et-pb-image–responsive–phone: crop of 480x270px
et-pb-portfolio-module-image: crop of 510x382px